Additional US Live Date
25 March 2008
An additional US live date has been added to the Yazoo Reconnected tour:
08 July - Los Angeles, CA Orpheum Theatre
842 South Broadway, Los Angeles, CA 90014
Additional UK Live Dates
05 March 2008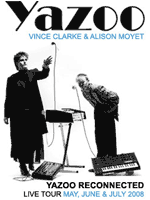 Four additional UK live dates have been added to the Yazoo Reconnected tour:
Tickets will go on general sale on Friday at 9am.
All venues are seated.
Yaz U.S. Shows
04 March 2008
"Created somewhere inside the brain of Vince Clarke and the soul of Alison Moyet in a spaced out time between Giorgio Moroder and James Murphy" - Paul Morley 2007
Vince Clarke & Alison Moyet have announced that they will reunite for the first time in over 25 years for The Reconnected Tour, a brief U.S trek in July starting at the Paramount Theater in Oakland, CA on July 7 and culminating in two headline shows at New York City's Terminal 5 on July 16 and 17th.
Tickets are on-sale in Chicago on Friday, March 7; NY and Los Angeles beginning Saturday, March 8; and Oakland on Sunday, March 9. Tickets will be available through ticketmaster.com.
The tour is preceded by In Your Room a 4-disc box set.
A limited edition vinyl 12" with new dance mixes will also be released to promote the set.
US TOUR - JULY 2008
The U.S. tour announcement follows a series of UK and European dates which have been announced recently.